2022
Living Snow Project gets a shot out in Wired Magazine!
Wired Magazine, and several other news sources syndicated an article written for High Country News, covered a story about snow algae, and gave a shot out to the Living Snow Project!
We take issue with the article's title, Pink Snow Is Not a Cute Phenomenon—Here's Why, because we do think it's cute (see images below). But it is true, excessive snow algae blooms have the potential to drive increases in snowmelt and add a stressor to issues with glacier melt and water resources.
Dr. Kodner selected for funding through the new National Science Foundations' Mid-Career Advancement program!
Dr. Kodner was selected for funding for a new snow algae physiology research project, through new NSF Mid-Career Advancement Program (MCA).
The MCA supports opportunities for scientists and engineers at the associate professor rank (or equivalent) to substantively enhance and advance their research program through synergistic partnerships. This award provides protected time, resources, and the means to gain new skills through synergistic and mutually beneficial partnerships.
Dr. Kodner will partner with Dr. Jodi Young at the University of Washington, an algal physiologist studying ice algae in Antarctica. Together, we will be comparing how snow algae respond to seasonal changes in the environment with how ice algae respond to polar night and the transitions to spring.
2021
New funding from National Science Foundation For Snow Algae population genetics method development
Dr Kodner, along with colleagues from the University of Minnesota and the University of Alabama – Birmingham have received a grant from National Science Foundation to develop tools for studying microbial evolutionary genetics. The samples collected from the Living Snow Project provide an amazing resource to support this work. NSF EAGER grants are used "to support exploratory work in its early stages on untested, but potentially transformative, research ideas or approaches." Together, they will develop a novel, single-cell population genetic method, combining the latest in single-cell sequencing and genotyping pipelines for non-model taxa using a species of snow algae — a closely related, single-celled algae that live on snow and glaciers. The team believes this project could lead to a breakthrough in the study of the evolution of microscopic life. Many organisms are microscopic and cannot be grown under lab conditions, which makes performing more traditional population genetic field and lab work challenging. By approaching microbial population studies in the field versus artificial lab conditions, the team believes they will get a more accurate picture of how snow algae populations are evolving over time, in relation to changes in snowpack. This grant will be focusing on the Chlainomonas species collected in the Bagley Basin, but Living Snow Project volunteer collected samples have identified other sites in which we can collect this interesting species.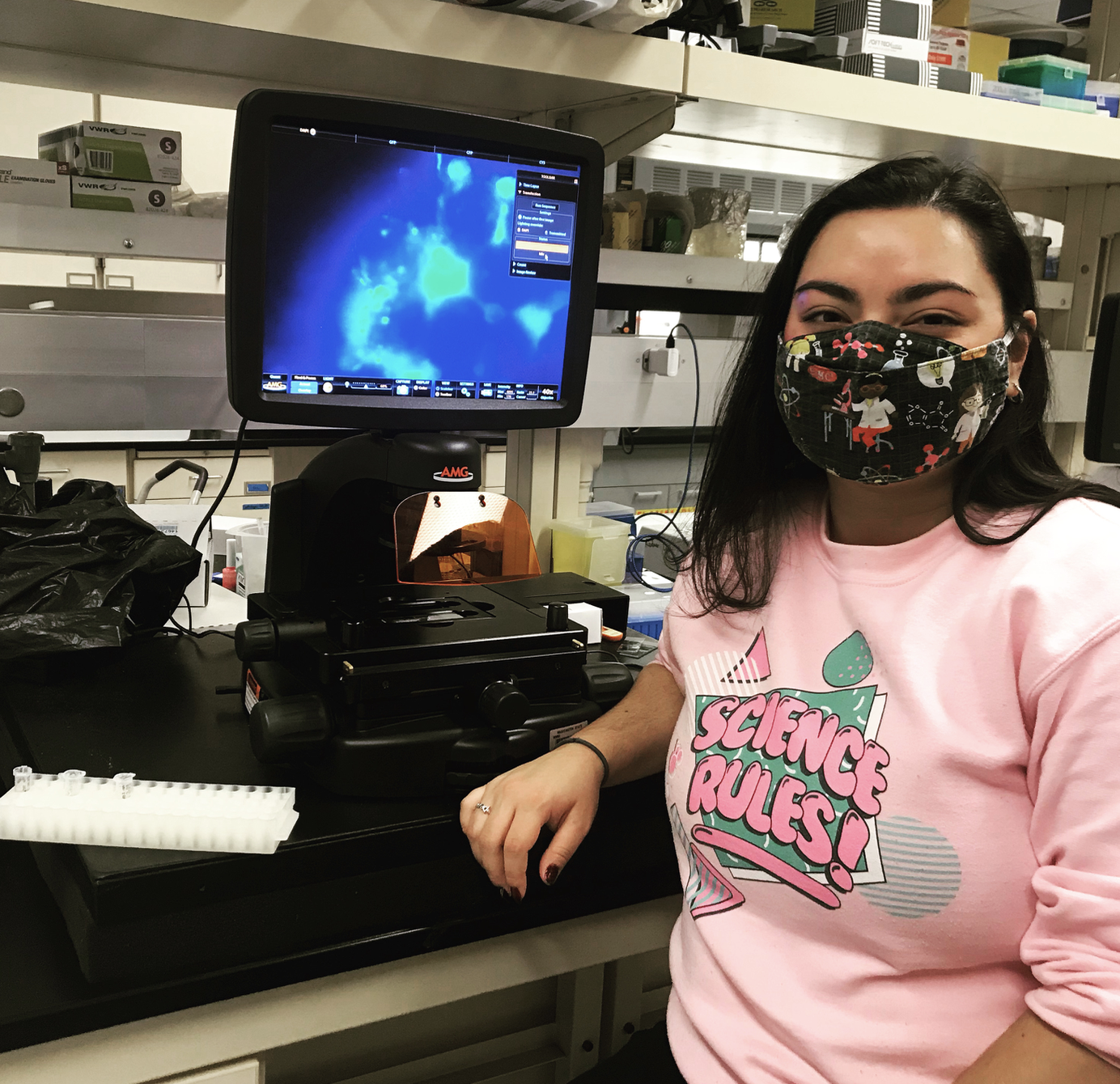 New Living Snow Project Partnership for Recruitment in the Sierra Nevada Mountains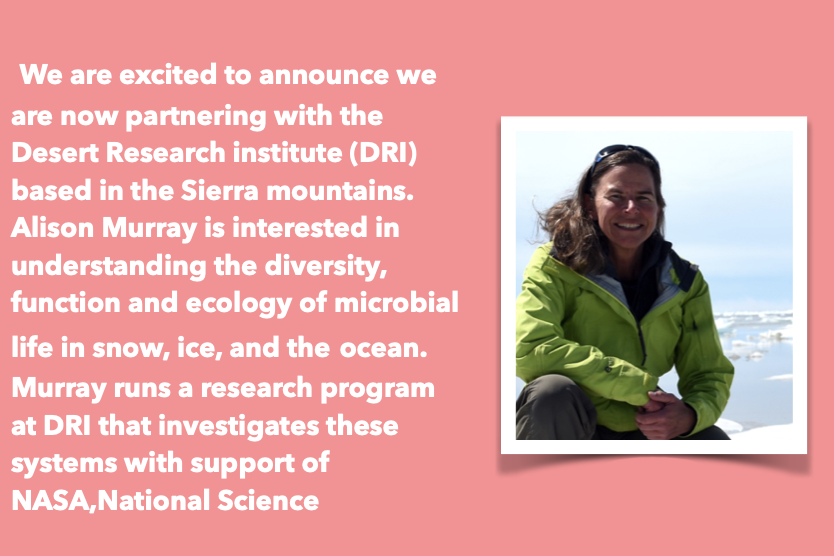 2020
Robin talked with journalist, Mark Mann from Besides Magazine, an independent magazine that focuses on the crossroads of nature and culture.
2019
Robin partners with Oregon Public Television's Oregon Field Guide on a piece about snow algae and the Living Snow Project. 
Robin partners with Seattle Public Television's Cross Cut for their Human Dimensions program, highlighting the scientists behind the science. 
2018
Living Snow Project on Seattle TV News
King 5 news came up to WWU to interview Robin and Rachael about snow algae and the Living Snow Project.  *The journalist took some liberties in his interpretation of what I was saying, as happens.  I'm definitely NOT the first person to study snow algae.  I was the first to start characterizing the communities using new DNA sequencing methods in 2014 when I started the study.
Since then Trinity Hamilton at the University of Minnesota and Shawn Brown at the University of Memphis have published small studies in Oregon and Washington respectively.  We are excited to have our large scale study in review for publication soon!
5/27/18
The Living Snow Project was the cover story of the Sunday edition of the Skagit Valley Herald Memorial day weekend 2018!
Skagit Valley Herald Sunday Paper Cover
Living Snow Project in Seattle Times for National Citizen Science Day
National Citizen Science Day is coming up! Check out this Seattle Times article on the Kodner Lab's Citizen Science project.
2017
Seattle Times Story about Pink Snow Citizen Science
The Seattle Times highlighted Dr. Kodner's Citizen Science program in a recent article about programs throughout Washington state using citizen scientists to track the effects of climate change.
You can access the full article here: http://www.seattletimes.com/life/outdoors/citizen-scientists-track-effects-of-climate-change-in-the-northwest/
July 2017
The WWU Alumni Magazine – Western Window – Featured Dr. Kodner as one of the scientists at WWU doing research on Mt Baker.
See the article here: Secrets of the Mountain
4/11/2017
The Outdoor Journal
The Outdoor Journal wrote an article with John All on the course he co-taught with Dr. Kodner in Peru last year: Outdoor Journal Article on Peru Course. 
2/10/2017
Oregon Public Television's Oregon Field Guide Features Dr. Kodner in Story about Biolumensence
Dr. Kodner collaborated with Oregon Public Broadcasting and Discovery Sea Kayaks on San Juan Island to do a program on bioluminescence and our favorite dinoflagellate Noctiluca.  See the 7-minute clip here:
http://www.opb.org/television/programs/ofg/segment/bioluminescence-water-algae-washington/
2/1/2017
The Kodner Lab's station at SnowSchool mentioned in an article in Cascadia Weekly. SnowSchool is a collaboration between the North Cascades Institute (an affiliate of WWU) and the Mount Baker Ski Area which brings place-based education about our local snowy and montane backyard to local K-12 students.
Access the full article here:  http://www.cascadiaweekly.com/cw/currents/bringing_students_into_the_mountains
"When undergrads from Robin Kodner's biology lab at Western Washington University model how to properly collect samples for snow algae and bacteria research, they are not only illustrating how microbial communities impact our watersheds, but also that science takes place outside institutional walls." -Abby Sussman
Thanks to SnowSchool director, Abby Sussman, for the wonderful article!
2014
The Skagit Valley Herald featured Dr. Kodner and her involvement in the North Cascades National Park's BioBlitz program:  http://skagit.ws/1BMGFEy. 
BioBlitz with the North Cascades National Park
This summer we began a true pilot of our Snow Algae sampling program. We have been partnering with the National Park Service to recruit citizen science volunteers to help sample.  See the flyer below.
We have also filmed sampling up at Mt. Herman and Artist Point in August, at the end of WA Hwy 542, for a Discovery Science documentary highlighting organisms that live in extreme environments.  Thanks to Windfall Films for a fun day in the field!